Welcome
to the official website of Blue Note Six
Dear friends!
the live concerts are back! Our next concert will be at Jazzland, on 12.6., with Cili Marsall playing the piano!
Two days before, on 10.6. the BN6 members play at the Graf in St.Pölten, in a quintet, at Walter`s regular session.
See you soon!
Dear friends! On Saturday New Blue Note Six Live TV Stream directly from the Jazzland! (10.4.2021 evening!)
Link is here: https://m.youtube.com/watch?v=o6GyOQzivBs
Other: ...we didn"t update the website much during Covid, everything was so wonky.... unfortunately that hasn"t changed, but the Jazzland streaming seems to be a safe thing now!...
And one more note: If you would like to receive the New Blue Note Six newsletters in the future, please send me an email to davidmarsall67@gmail.com or contact Walter in this regard! Thanks a lot for your endurance and attention !
------------------------------------------------------------------------------------------
Dear friends!
The concerts are back! We are happy to inform you that on May 29th we opened the Jazzland as a substitute for our friends, the Hot Jazz Ambassadors. On July 7th we will play again in Jazzland, as the real New Blue Note Six with a star guest, the pianist-virtuoso Herbert Otahal.
Unfortunately the autumn season in the Martinschlössl is cancelled due to corona.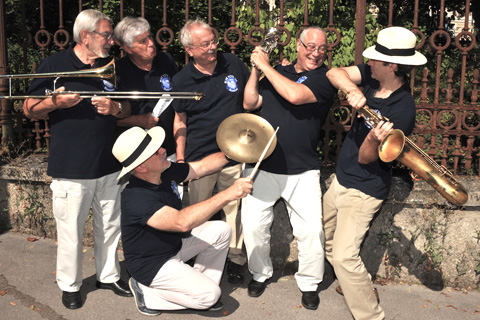 Website auf DEUTSCH ansehen